Legislation
Our mission is to end workplace bullying through the development of meaningful prevention activities for organisations and the implementation of effective routes to redress for individuals.
​
We aim to achieve this by raising awareness and seeking formal recognition of workplace bullying as a problem that injures individuals and damages organisations.
​
The law does not provide sufficient protection or redress for people whose employers let bullying go unchecked, making the process of seeking legal remedy in these cases unduly complex and arduous. We will work with lawyers and legislators to identify and close the gaps in legislation.
​
​
next steps
To support this work, we brought together legal experts who have kindly provided their time to explore existing legislation and create a proposal for new legislation. Find out more by watching the videos below. We are now working hard behind the scenes to get support to take the new legislation forward.
We continue to raise awareness about workplace bullying through our own webinars and guest speakers on podcasts and events run by other organisations. These are all available on our Resources page.
We also run an annual United Against Workplace Bullying Conference each November to support our work.
​
**COMING SOON**
Downloadable letter template for you to send to your MP

Downloadable social media assets so that you can share your support

Petition
​
Please sign up to our newsletter to keep up to date with developments!
campaigning
Legal options if you've suffered bullying at work
​​
Everyone has the right to work in an environment free from harm and receive support from their employer in the event that there are issues of workplace bullying.

There are two different areas of law which cover bullying issues and the safety of employees whilst at work:
​
We are extremely grateful to Oakwood Solicitors who have kindly produced this flyer for us to explain the different approaches, available free of charge to download.
Overview of Legal options if you've suffered with Bullying at Work
United Against Workplace Bullying Conference 2020
Workplace Bullying: Is legislation working?
Workplace Bullying: Is legislation working?
Panel Members:
Nicki Eyre, Conduct Change
Jess Rowson, Oakwood Solicitors
Liam Ryan, Barrister, 7BR
Marian Bloodworth, Chair of the national Employment Lawyers Association
Jenny McCullough, Conduct Change Advisory Board
Emily Commander, Conduct Change Advisory Board
United Against Workplace Bullying Conference 2021
Closing the Gap in Legislation for Workplace Bullying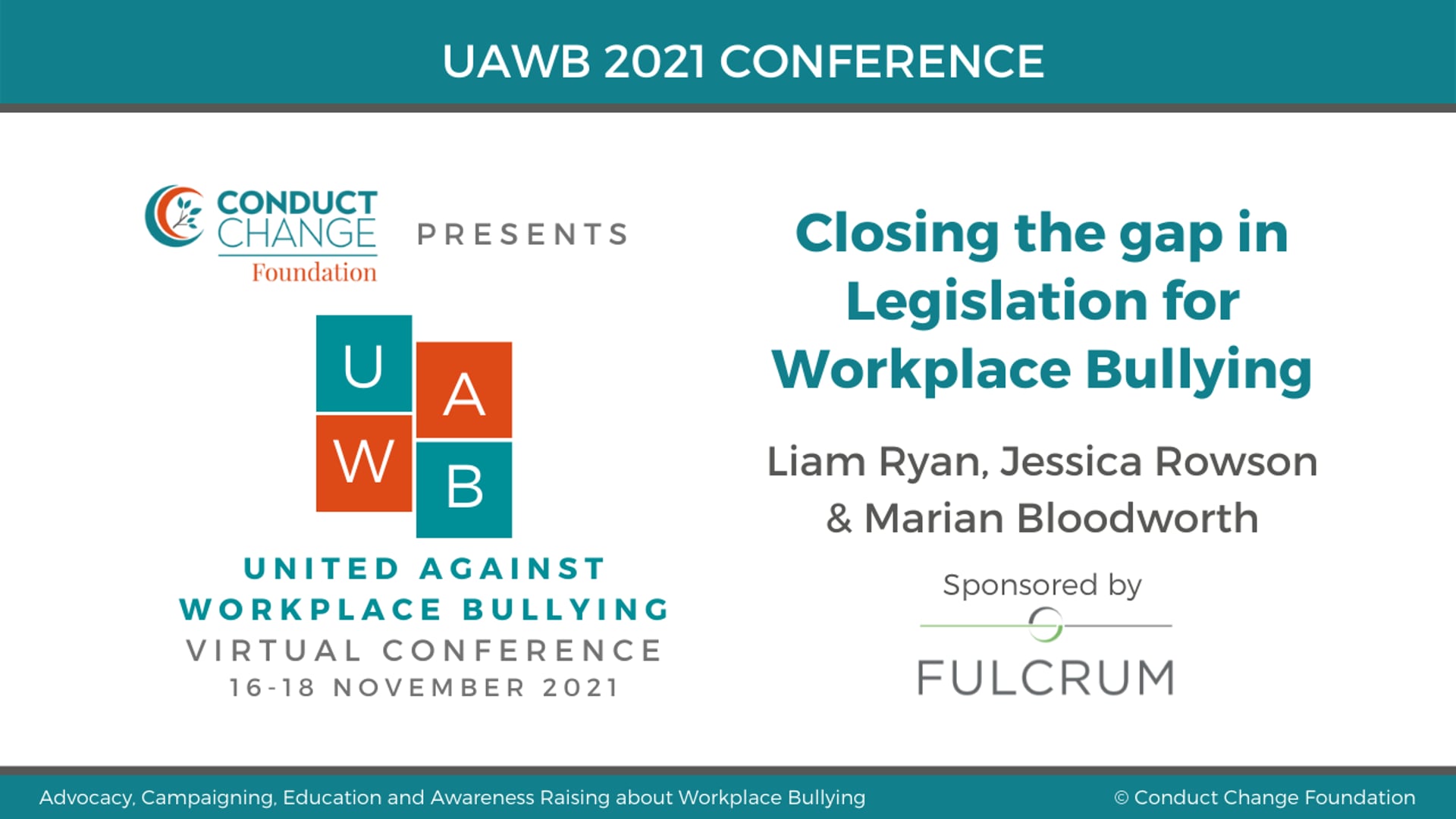 Closing the gap in legislation for workplace bullying
Panel Members
Nicki Eyre, Conduct Change
Jess Rowson, Oakwood Solicitors
Liam Ryan, Barrister, 7BR
Marian Bloodworth, Chair of the national Employment Lawyers Association